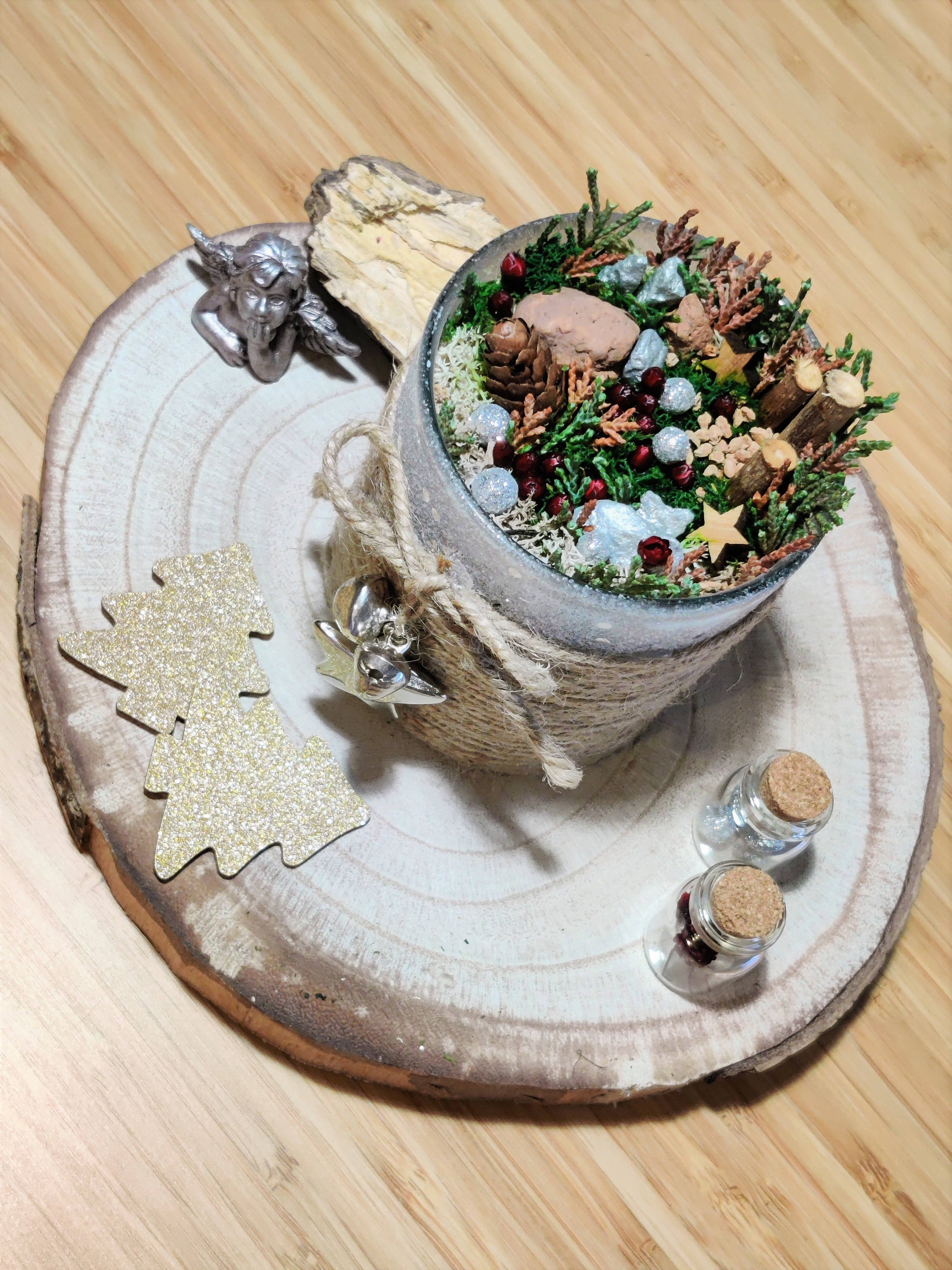 Old year, new year (LIMITED EDITION)
---
---
❄️️ !Ha llegado el gran día! ❄️️
Encanta tu día de Reyes, para regalar y regalarte nuevas sensaciones únicas y originales.
Esta edición de terrario artesanal y artística, incluye:
Terrario único de temporada y personalizado

Figura decorativa de angelito, pintada a mano color plateado

Ilustración original formato postal 2022 (Acuarela dorada y plateada)

Dedicatoria personalizada o mensaje especial para regalar

Pequeño set de accesorios únicos y decorativos
¿Te gustaría recibir esta edición limitada tan única y especial? 
REGALA UNA EXPERIENCIA NATURAL, ORIGINAL Y HECHA A MANO, CONECTANDO CON LOS ELEMENTOS DE NUESTRA TIERRA.
¡Descubre la magia del Arte Ikebana y las técnicas utilizadas para crear este arreglo floral! https://view.genial.ly/61e441b21cb3c70d26b558a1 
---
CATEGORIES
---
FAQs - Objetos Únicos
What do the payment statuses mean?
Here you can see details for each payment and its status.
Paid: when a payment is made by credit card, offline payment or any other means of payment, the payment status of that order changes to "paid".
Pending: orders are on "pending" status when they have not been paid yet.
Authorized: depending on the payment method, payments are registered and updated manually or automatically.
Refunded, Partially Refunded, or Voided: When an order is canceled, the payment status changes to "Refunded or Voided". For an order for which payment has not yet been captured, the payment status appears as voided.
For orders with captured payments, the payment appears as refunded. If you partially refund an order with a captured payment, its status changes to partially refunded.
You will receive via email instructions to follow your order. If your lot is lost during shipment, please contact customer service of the courier company. Delivery time and the delivery method will depend on the characteristics of the package and the distance to the shipping point.
Can I return an item even after I have received it at home?
Yes, you can manage returns with the seller during the first 7 business days upon receiving it. The seller has 3 calendar days to accept the return. If the issue has not been solved or you do not agree, you can ask our Support department for help. The seller must confirm the correct receipt of the returned item within 10 working days. When the refund payment is processed, you will be notified.
Choose your preferred payment method, including credit cards, debit cards, PayPal, bitcoin, ethereum.