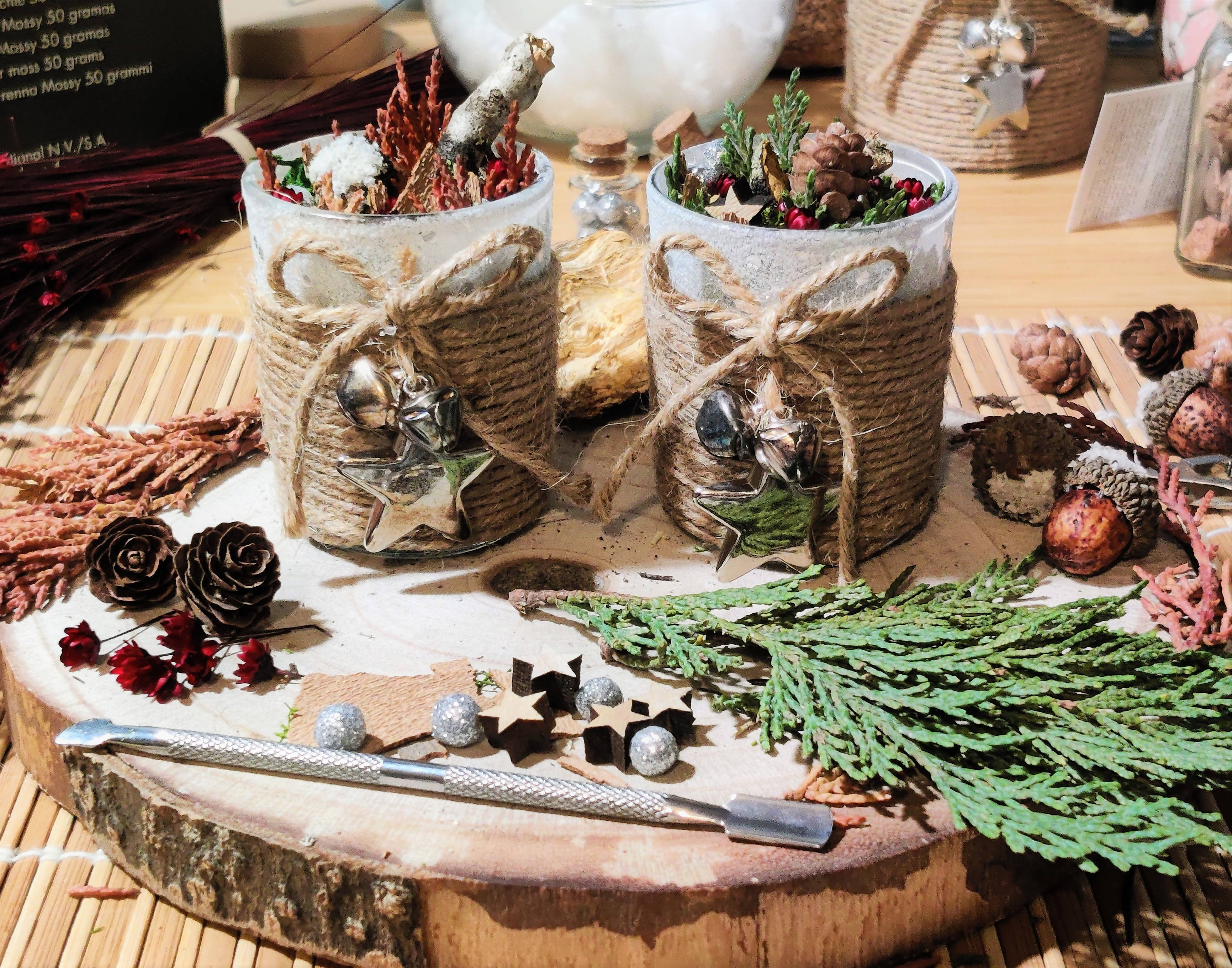 ---
---
¡Old year, new year! 
Este conjunto de terrarios tiene un mensaje especial para el mundo...
Estamos cambiando y con ello cambia la tierra que pisamos, el ser humano al nacer y nuestro ecosistema evolucionando a cada paso que se transforma cada especie, planta y partícula en la atmósfera.
"En el lenguaje de la tierra", tenemos un proyecto:
Conecta mente y cuerpo, conociendo tu entorno y territorio. Porque la huella que dejarás en él, unirá el camino hacia una magia que se cuida y existe, allá donde pises y te formes.
FELIZ AÑO, FELIZ COMIENZO
Materiales:
Frasco pequeño de cristal
Purpurina blanca y brillante
Accesorios pegados a mano
Tronquitos con musgo natural
Cuerda de yute
Corteza natural
Musgo artificial
Bolitas plateadas
Hoja de pino x2
¡Descubre la magia del Arte Ikebana y las técnicas utilizadas para crear este arreglo floral! 
https://view.genial.ly/61e441b21cb3c70d26b558a1
---
CATEGORIES
---
FAQs - Objetos Únicos
What do the payment statuses mean?
Here you can see details for each payment and its status.
Paid: when a payment is made by credit card, offline payment or any other means of payment, the payment status of that order changes to "paid".
Pending: orders are on "pending" status when they have not been paid yet.
Authorized: depending on the payment method, payments are registered and updated manually or automatically.
Refunded, Partially Refunded, or Voided: When an order is canceled, the payment status changes to "Refunded or Voided". For an order for which payment has not yet been captured, the payment status appears as voided.
For orders with captured payments, the payment appears as refunded. If you partially refund an order with a captured payment, its status changes to partially refunded.
You will receive via email instructions to follow your order. If your lot is lost during shipment, please contact customer service of the courier company. Delivery time and the delivery method will depend on the characteristics of the package and the distance to the shipping point.
Can I return an item even after I have received it at home?
Yes, you can manage returns with the seller during the first 7 business days upon receiving it. The seller has 3 calendar days to accept the return. If the issue has not been solved or you do not agree, you can ask our Support department for help. The seller must confirm the correct receipt of the returned item within 10 working days. When the refund payment is processed, you will be notified.
Choose your preferred payment method, including credit cards, debit cards, PayPal, bitcoin, ethereum.