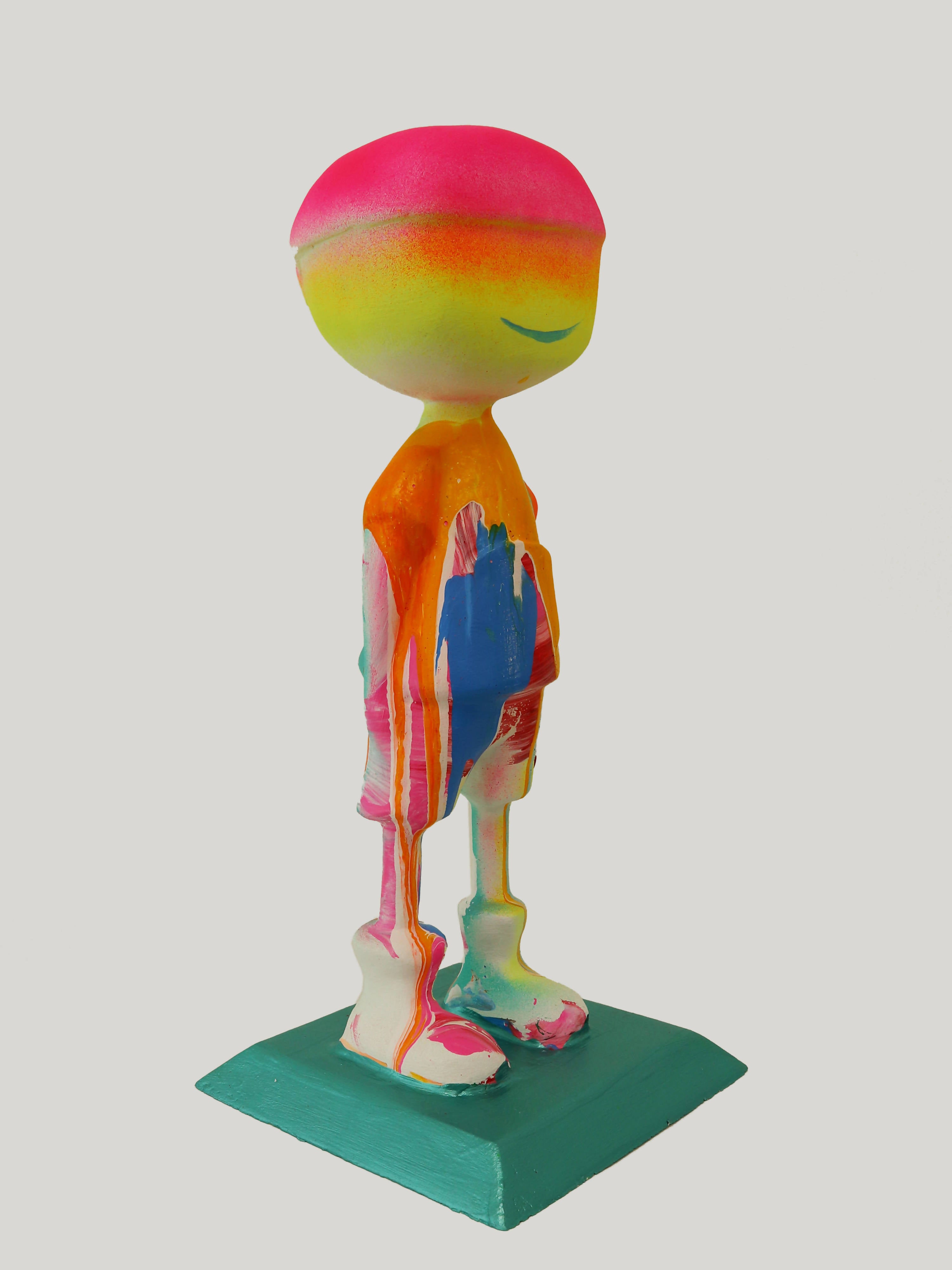 MARTÍN by Santiago Picatoste
---
---
Martín by Santiago Picatoste (PIKA) es una combinación espectacular de colores, abstracción pura y dura, tremendo sentimiento por el arte en su mayor expresión. Pika da vida a Martín, envolviendo su cuerpo de una suave capa líquida. Martín mide 40 cm. de alto, su base 17 x 17 cm. y pesa 3 kg.

Santiago Picatoste
Nace en Palma de Mallorca en 1971.
Mis obras nacen de la superposición de elementos para crear una imagen nueva. Es decir, del recubrimiento o añadido de capas de colores, texturas, o materiales industriales, tales como el metacrilato, cloroformo industrial, etc.
Siempre he teniendo presente la espontaneidad, y la alquimia en el proceso creativo. Mi estilo, o referencias más evidentes surgen de la abstracción post pictórica en conexión con la "figuración". Es una revisión de alguno de los movimientos y estilos artísticos del siglo XX que más me interesan. En los últimos años a estos conceptos se han sumado los de carácter industrial, la idea de construir o ensamblar elementos o materiales ofreciendo una nueva lectura, sin perder el pulso de lo que yo considero como "un elogio a la plástica".
Siempre he mantenido una estrecha relación con lo urbano (gran metrópolis), fuente de todas las tendencias y cuestiones actuales. Creo fielmente que la correcta resolución de una obra de arte se basa en el contraste, por eso en mi obra se hace evidente el concepto: Fondo/forma, leitmotiv en mi trayectoria.
---
Select the product, enter your data and proceed with the payment. You will receive a purchase confirmation email.

The seller handles and delivers your order to the courier. You can monitor from "My account" your package status.

We keep you informed of your parcel status. Additionally, you have your tracking code to follow your package in real time through the courier's site.

The courier delivers your purchase at home. Now is yours!
---
Home Parcel delivery
Security: each shipment is identified and registered.
Guarantee: delivery subject to recipient's signature.
Trust: Track your shipment from our website or by phone.
Flexible: national and Andorra shipments of up to 20 kg, with a delivery time between 3 and 5 business days except the Canary Islands (8 business days).
---
FAQs - Objetos Únicos
What do the payment statuses mean?
Here you can see details for each payment and its status.
Paid: when a payment is made by credit card, offline payment or any other means of payment, the payment status of that order changes to "paid".
Pending: orders are on "pending" status when they have not been paid yet.
Authorized: depending on the payment method, payments are registered and updated manually or automatically.
Refunded, Partially Refunded, or Voided: When an order is canceled, the payment status changes to "Refunded or Voided". For an order for which payment has not yet been captured, the payment status appears as voided.
For orders with captured payments, the payment appears as refunded. If you partially refund an order with a captured payment, its status changes to partially refunded.
You will receive via email instructions to follow your order. If your lot is lost during shipment, please contact customer service of the courier company. Delivery time and the delivery method will depend on the characteristics of the package and the distance to the shipping point.
Can I return an item even after I have received it at home?
Yes, you can manage returns with the seller during the first 7 business days upon receiving it. The seller has 3 calendar days to accept the return. If the issue has not been solved or you do not agree, you can ask our Support department for help. The seller must confirm the correct receipt of the returned item within 10 working days. When the refund payment is processed, you will be notified.
Choose your preferred payment method, including credit cards, debit cards, PayPal, bitcoin, ethereum.