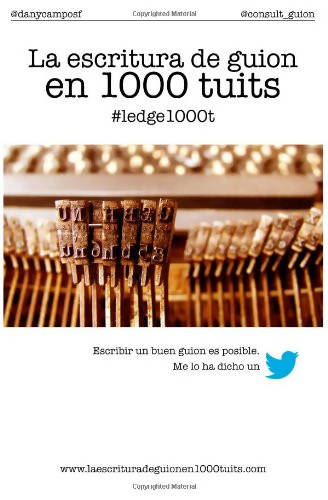 La escritura de guion en 1000 tuits (versión PDF)
---
---
La escritura de guion en 1000 tuits ofrece un repaso a los aspectos más importantes del oficio de guionista, desde cómo construir una buena historia, pasando por consideraciones formales, hasta cómo vender el guion o frases de motivación que encenderán el ánimo de aquellos lectores interesados en escribir para el cine, la televisión o los videojuegos. En cualquier caso, no lo hace de una manera convencional, sino utilizando un formato nuevo, fresco y, sobre todo, compartible. En ocasiones provocador, pero siempre pedagógico, el libro no pretende ser un compendio académico de contenidos sobre la escritura de guion, sino un buen montón de consejos y reglas que estimularán la creatividad y provocarán la reflexión del lector para iluminarle en la oscura tarea de crear historias desde la página en blanco.
---
FAQs - Objetos Únicos
What do the payment statuses mean?
Here you can see details for each payment and its status.
Paid: when a payment is made by credit card, offline payment or any other means of payment, the payment status of that order changes to "paid".
Pending: orders are on "pending" status when they have not been paid yet.
Authorized: depending on the payment method, payments are registered and updated manually or automatically.
Refunded, Partially Refunded, or Voided: When an order is canceled, the payment status changes to "Refunded or Voided". For an order for which payment has not yet been captured, the payment status appears as voided.
For orders with captured payments, the payment appears as refunded. If you partially refund an order with a captured payment, its status changes to partially refunded.
You will receive via email instructions to follow your order. If your lot is lost during shipment, please contact customer service of the courier company. Delivery time and the delivery method will depend on the characteristics of the package and the distance to the shipping point.
Can I return an item even after I have received it at home?
Yes, you can manage returns with the seller during the first 7 business days upon receiving it. The seller has 3 calendar days to accept the return. If the issue has not been solved or you do not agree, you can ask our Support department for help. The seller must confirm the correct receipt of the returned item within 10 working days. When the refund payment is processed, you will be notified.
Choose your preferred payment method, including credit cards, debit cards, PayPal, bitcoin, ethereum.